Fun Worship Outreach for United Methodist Churches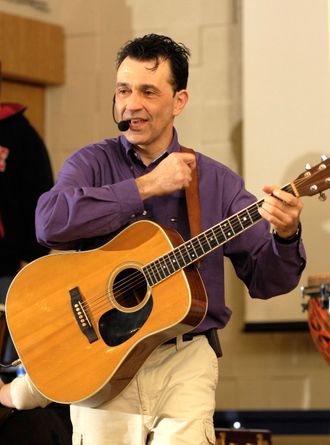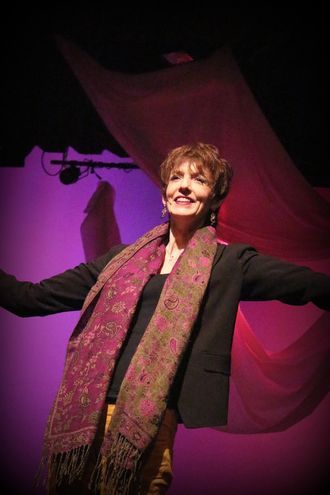 Helping Families worship together with the creative use of Music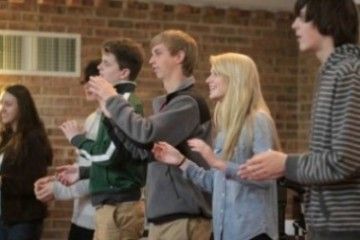 What does this Program look like?
Sunday Morning Objectives
Usually, my first visit to your congregation is on a Sunday morning, to lead worship with a few of your key Musicians. I typically bring the Sermon too, coordinating the music to reinforce the Message. Most of the time, your Pastor is there helping lead key elements of the service, but being able to just worship. I try to facilitate an experience of God's joyful presence, as opposed to performing. I was a Trumpet major, so I am using "weaker gifts," leaning on God each moment, so that the Spirit can ignite something real for each worshiper.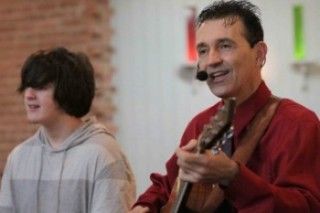 Method
 I always begin with familiar material that your oldest, most faithful  constituents will instantly recognize. We might be reworking a  traditional hymn with a bare bones accompaniment, that I would  call "light acoustic." I like to work with your Organist and ask if she  or he might be willing to use the acoustic Piano, to accompany the  congregational worship, along with me on acoustic guitar. Piano music is sent via email, ahead of time. I ask you to invite at least  one adult and one student to help lead worship, using some hand  drums that I bring (called Djembes). We all meet before service and  have a quick rehearsal. The reason I choose this stripped down  accompaniment is because it is easily reproduceable, after I leave.  Having an adult and student paints a mini-picture of God's Reign,  where hopefully adults and students are leading worship together. This says to anyone who might walk into your sanctuary, "there is room here for all generations to help lead worship." If you don't use visual Media yet in church, I bring a projector, screen and laptop. Otherwise, I send the Powerpoint files ahead of time. 
Often, the first message I bring to your church is called, "Chance to Dance," which God has used from coast to coast, to help us reflect theologically about why it is so hard to be our true selves in Church. This message has helped countless United Methodist become more at home in our bodies in Church, realizing God has created us with minds, emotions and physicality. It is often the oldest members that tell me, "we need more of this." These are the folks whose recreation, before the advent of Television, was to go out dancing!
Scope and Impact of the Ministry
Often, a Sunday morning together inspires local musicians to try new approaches, to keep the momentum going on subsequent weekends. We might follow up down the road, with a Worship Leaders Workshop on a Saturday, followed by co-leading Worship together, the next morning.
It is a blessing to be invited back to your church. Whereas I once served a specific local church, I now see that God has called me to serve a larger "congregation." In a sense, the general Conference is my congregation and as a Conference Evangelist, I strive to go wherever God calls me.
Messages
            Below are some Sermon and service themes that God is using to help persons hear God's call, in new ways.

Chance to Dance – II Sam. 6:12-21 How can we be more authentic and fully alive in our worship services?
Who is at the Table? –Lk. 14:7-15 An opportunity to think about our "hospitality quotient."
Buried Treasure – Mt. 25:14-31 How can we discover, develop and deploy our gifts for ministry?
Deep Hungers – Mt. 4:1-4 How do our appetites impact our effectiveness as disciples of Jesus Christ?
Whose Race are you Running? Heb. 12:1-3 What is the race and how can we finish strong for God?
Resource-Full – Stewardship Sunday message or series