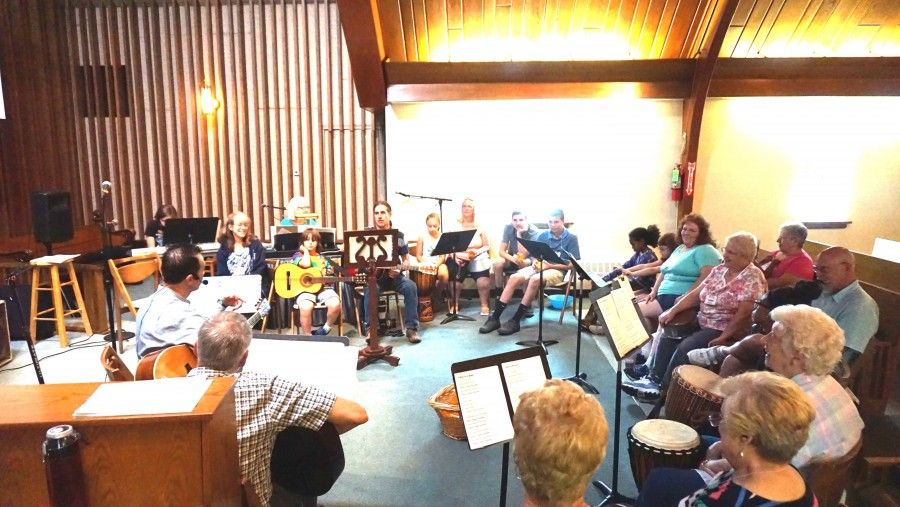 Worship Leaders Workshop – A "Play-Shop" with Discussion and the opportunity to practice new skills. Participants learn how to build a bridge to new Worship traditions, without losing your constituency.
With a mix of input, demonstration, conversation and hands-on practice, Rich models leadership that engages others in Worship.
Often, the goal is to co-lead a Worship Service, the next morning. Rich encourages your Musicians to lead and his goal is to stay in the wings as much as possible :)
The morning or afternoon is spent together in Play-Shop (workshop), with a rehearsal after Lunch or Supper and before Church on Sunday morning. 
Questions and Issues can include:
- What kind of Worship does our Church need? Do I need?
- How do we build a worship bridge to those we are not currently reaching?
- How will Worship meet the needs of diverse age groups
- Is the word "contemporary" helpful?
- Does the Church need Worship Leaders?
- Who can be a Worship Leader?
- The Heart & Art of a Worship Leader
- Building a Strong Team
- Contrast, Counterpoint, Dynamics, Tempo and Transitions
- Concepts to consider in Planning Worship
Suggested Saturday Schedule Options
9:00 am Workshop begins              2:00 Workshop begins
10:30 Break                                    3:30 Break
10:45 Workshop Session II            3:45 Workshop Session II
12:00 Lunch together                     5:00 Supper
1:00   Rehearse for Sunday            6:00 Rehearse
2:30 pm Close in prayer                 7:30 Close in prayer
We assume this WLW is for one local Church and its key Leaders, unless special arrangements are made ahead of time.
Persons to consider inviting : Organist/ Pianist, Choir Director, all Choirs, any Youth and Youth Leaders who have ANY musical gifts, but especially rhythm instruments (piano, guitar, percussion), Children's Ministry Staff, Worship Committee, Worship Planning Team mates, Visual Media (Ppt) and Audio Engineers (Sound Board).
Costs 
If the Saturday Workshop is done in conjunction with a Sunday morning Services, then cost is $250.
A stand-alone Workshop is $400.
Consultation without Workshop = $100 per hour plus travel (current IRS Standard).